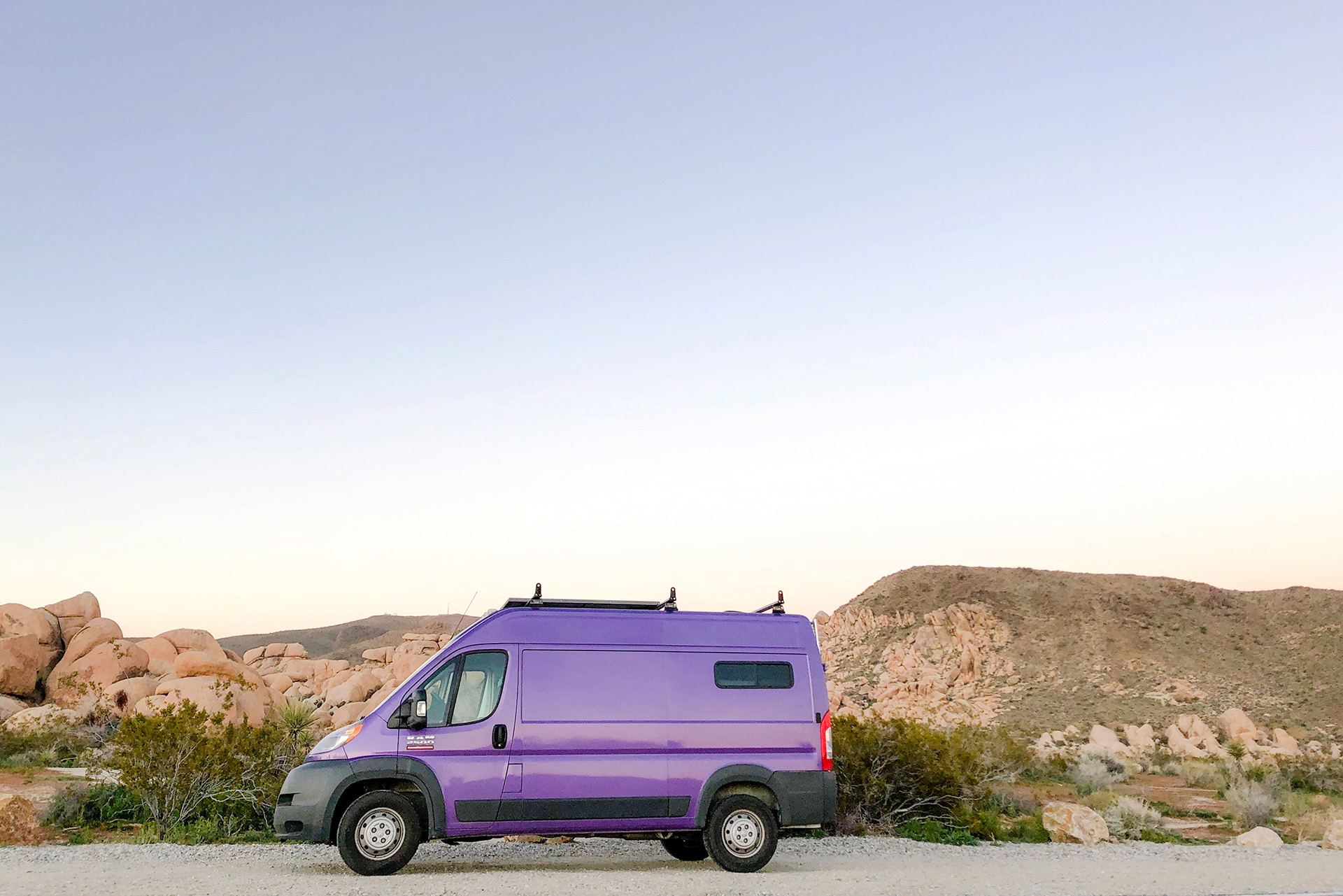 Meet Dandy, short for Dandelion. This purple beauty has been exploring the open road since September 2017. She is a lady, in case you were wondering. And has a short story of her own.
The name Dandy has meaning, naturally. In times of change, while moving forward and occasionally sneaking a glimpse at the past, I have found myself saying, "Here's to dandelion wishes." To me, dandelions have always symbolized joyous, playful wishes. Looking wide-eyed at the future, while also remaining somewhat grounded in the present.
Choosing a van name is a big deal, and I felt a trusted consult was necessary before committing. A quick Google search revealed additional, perfectly fitting meanings for this wishful weed:
Lasting happiness and joy

A wish fulfilled

Surviving difficult trials

Warmth of a new day
All other options were tossed aside, and clearly less than stellar since I am unable to remember a single one. Saying Dandelion felt a bit long while incessantly referring to my new van. This little lady has since been affectionately called Dandy.
Dandy was also originally white, and absolutely empty. Purple is my favorite color, an obvious statement if you have ever seen me in person. Although painting a huge vehicle such a vibrant, in your face color felt a little overwhelming at first, the ease of spotting Dandy in any environment completely justified the idea. Plus, white was simply too boring. Unbeknownst to me at the time of color selection, a huge purple van brings joy to people of all ages, all around the country. The reactions are always the same. Smiling, often belly laughing adults and delighted dancing children. I am constantly giggling and waving in return.
Nearly nine months after buying Dandy, with over five months spent on the road camping, the time came for a custom build. Despite enjoying all the extra room for activities, and dance parties, I was craving comforts of a home. In came Vanlife Customs, in Denver, Colorado. They had Dandy for ten weeks, transforming an empty slate into a sleek, clean design with every feature and amenity I desired. The entire VLC team was a dream to work with and have continued to be amazing with upgrades and inspections as time goes by. They held a sweet photo shoot before handing over the keys and have a great write up on all the work put into this little home on wheels, in case you want to learn more about the build.
Take a look around the gallery, below, to see Dandy brand spanking new, before/after the build and adventuring around the country. She is absolutely lovely, if you ask me!